Try this delicious take on our classic Filipino sour soup! Sinigang na Inihaw na Liempo, made with grilled pork belly, vegetables, and tamarind broth is a delicious medley of smoky and tangy flavors. Serve with steamed rice or enjoy on its own for the perfect cold day comfort food.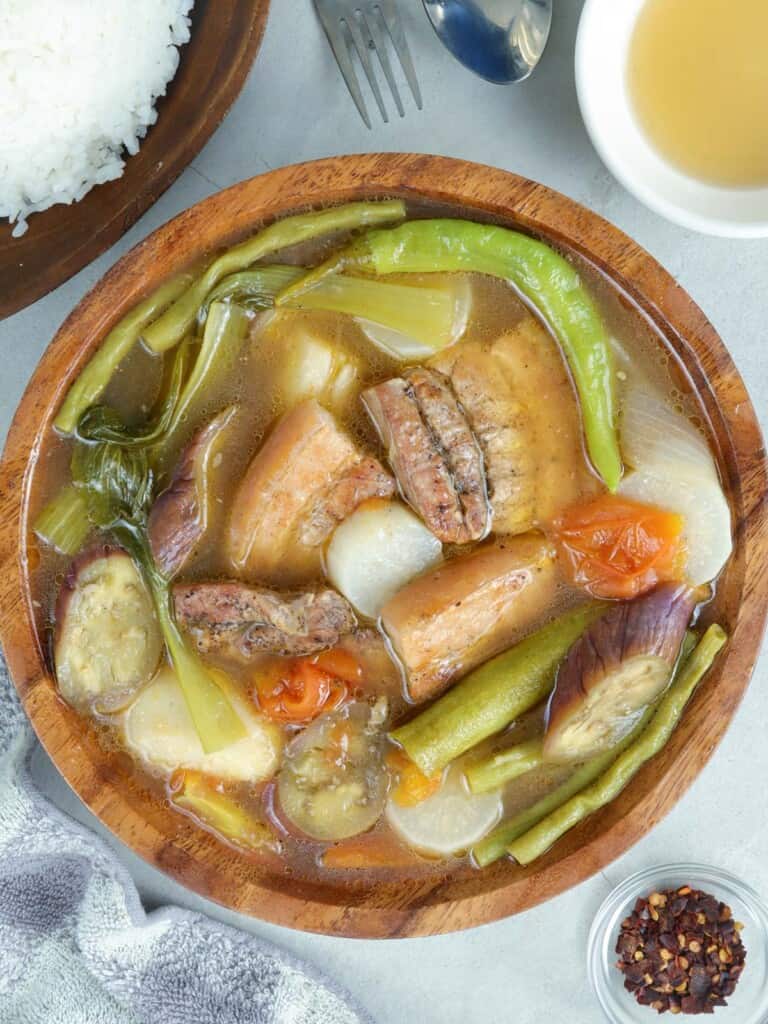 Table Of Contents
Ingredient notes

Grilling steps

How to serve and store

More sinigang recipes

Sinigang na Inihaw na Liempo
Do you love sinigang but craving a bit of variety? This sinigang na inihaw na liempo is a simple but delicious recipe to take our classic Filipino sour soup up a notch.
Grilling the pork belly first before finishing it off in the usual sinigang fixings is an easy way to level up this otherwise everyday dish. The meat's smoky flavor and the tamarind's sour notes marry into a delectable medley that's sure to hit the spot!
Ingredient notes
Pork– the best cut to use is the belly which grills easier and quicker and has a good mix of fat and meat for flavor
Tomatoes– I like to use the Roma variety as I find them juicier and sweeter
Vegetables– the recipe includes the usual sinigang fixings such as bok choy, yard beans, okra, radish, and eggplant, but feel free to use other leafy greens such as kangkong (water spinach) or mustard leaves.
Gabi– also called taro; adds texture and helps thickens the broth
Tamarind– you can use fresh pods, powder base, or paste
Finger chili peppers– siling haba or pangsigang is optional, but recommended if you want to add a mild heat
Grilling steps
Slice the pork belly in uniform thickness to ensure even cooking. I suggest about 1/2-inch thickness so they'll cook to tenderness quicker.
Season with a simple salt and pepper or check out my inihaw na liempo recipe for a more intense flavor.
Cook the meat over charcoal or on a tabletop grill.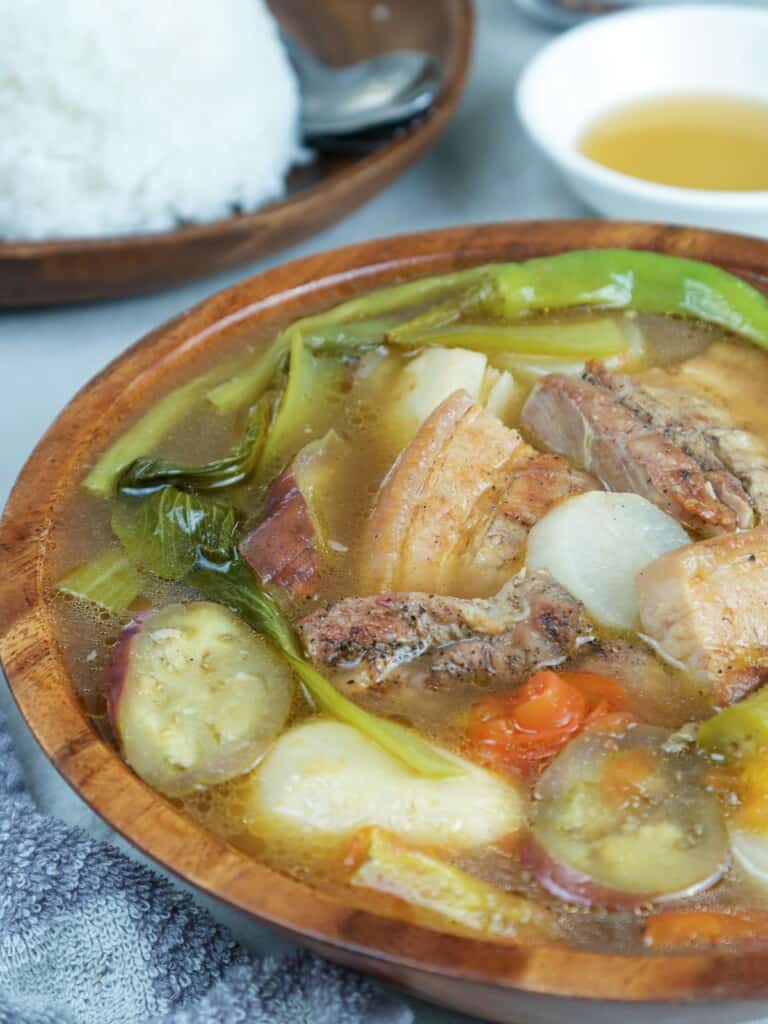 How to serve and store
Sinigang na inihaw na liempo is delicious on its own or with steamed rice. Serve it with spiced fish sauce for dipping to kick the umami taste.
Transfer leftovers to a container with a tight-fitting lid and refrigerate for up to 3 days.
Reheat in a saucepot to an internal temperature of 165 F or in the microwave at 2 to 3-minute intervals until completely warmed through, stirring well after each interval to distribute heat.